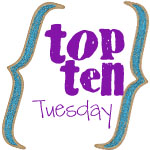 So basically I just make a list of whatever 10 things I want to and link up to the Oh Amanda blog!
Top Ten Things I Adore About all [in the Midwest]
1. Fantastically beautiful fall colors on the trees! Took my breath away on my walk today!
2. Going to the apple orchard with my family.
3. Pumpkin bread!
4. Salted caramel lattes at Starbucks.
5. Watching my puppy try to chase squirrels. He scrambles after them, but gets so confused when he gets to the bottom of the tree they've run up and can't find them. He looks round and round the tree and looks so sad that he can't find them! Adorable and pathetic all at once!
6. I love all the cute pumpkin arrangements on people's front steps!
7. The big [huge] blow up pumpkins my neighbors put out on their front lawn!
8. Applesauce cooking in the slow cooker all day!
9. The perfect weather...mid-70s...no humidity, no mosquitoes, no snow!
10. Watching my kids jump in leaf piles!