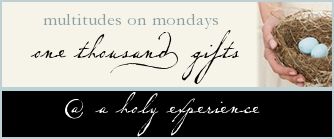 71. For an extended family that is fun to travel with and kind and loving and so wonderful!
72. For Christmas decorations!
73. For the return of my dog to our home after being away from us while we were on vacation.
74. For Mickey bars...yum!
75. For a season of gift-giving.
76. For crazy fun rides at Disney World: like Space Mountain, Expedition Everest, Rockin' Rollercoaster, and Tower of Terror.
77. For the amazing beauty of God's creatures that we saw in Florida.
78. For the patience of my husband.
79. For Peppermint Mochas.
80. For my daughter's spontaneous prayers yesterday.