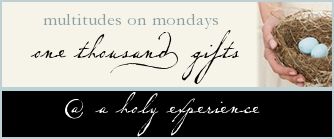 It is time. Time to take what I learned from this precious book and begin to apply it. One Thousand gifts...one at a time.
41. For a great time with great friends at Packer game.
42. For the amazing fall colors on the trees on my street.
43. For the 31-dayers.
44. For surviving my first mammogram.
45. For seventy degree days in October.
46. For my doctor who cares about me and never makes me feel guilty.
47. For the way my daughter's cowlick curls her hair on her forehead.
48. For my family's forgiveness when unexplained PMS-driven crabbiness reared it's ugly head for no reason.
49. For even the smallest bit of hope about freeing myself from some of my body/food issues.
50. For the kindness of a distant cousin, reaching out from Germany.
Thank you, God!